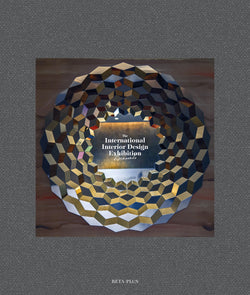 Beta-Plus Publishing
International Interior Design Exhibition
The International Interior Design Exhibition (iide) came to Brussels with heritage.  First launched in London by Fleur Rossdale as The British Interior Design Exhibition (BIDE) during the 1980's and 1990's, the event was highly acclaimed as a ground breaking showcase for the design industry.  With 30,000 international visitors to each, the exhibition helped propel interior design into the limelight, receiving worldwide press coverage and an insatiable demographic of private clients, hoteliers, designers and developers.  Fleur says 'Good design has a vital role to play in our everyday lives.  It can improve how we live and function, be it at home, in the workplace, in education or on holiday.  Interiors set a mood, portraying an identity that should feel enhancing and harmonious.'  Fleur, an active interior designer herself, chose Brussels for the re-launch due to the cultural heritage, not least as founders of the Art Nouveau movement. 'Decoration is all about bringing together skilled workmanship, colour, texture and fine art to create a melodious interior to enhance our everyday lives', she says.  
Fleur received much fan mail from visitors in the early days, in particular praising how they found a particular design style they related to, previously unknown to them.  
IIDE follows the ethos of past experience.  Showcasing Belgian and international designers, presenting their interior design vision which inspired private and trade visitors in November 2018 and in September 2019 at Tour & Taxis Brussels:
Michel Penneman, Christophe Remy, J. Phine with Kaye McGarva, Erik Dhont, Christophe Gollut, Gert Voorjans, Carter Tyberghein, Jessie Lecomte, Henrietta Spencer-Churchill, Olivier Lapidus, Luxus, Vanessa Bruffaerts with Pol Quadens, Diego Fortunato with Dedar, Fleur Rossdale, A.Dem Interiors, Dominique Rigo, Designers Guild, Gerald Watelet, Guimar Urbina Interiors with Kinetura and Technogym, Johan Van Mullem, Benedetti Interieur with Evolution21, LDécoration Internationale with Catherine Nyssen, Houlès, Jean Duruisseau and Coup-de-Foudre, Maria Westerberg with Johan Patricny, Isabelle Thiltgès, Casamance, Masureel and Aristide.
But the book also pays homage to the previous exhibitions held in London, with a selection of press coverage of these exhibitions :
BIDE 1982: Fox Linton Associates; John Siddeley International, Simon Playle
Limited, George Cooper as Samuel & Cooper, Charles Hammond, George Spencer Decorations, Bill Bennette Design, Herbert Nevile, Dargie Lewis Designs, Siddeley Landscapes, Galleria Monte Carlo with catering by The Admirable Crichton.
BIDE 1988: Parish-Hadley Associates, Parke Interiors, Machin Designs, David Hicks International, Borland Interiors, Blasé Design, Bennison, Rory Ramsden, Woodstock Designs, Spencer-Churchill Designs, Gordon Lindsay, Mercier - London, Anna Tatham, Thorp & May, Anthony Paine, Wiltshire Interiors, Alidad Limited, Beckett & Graham with David Linley, Jonathan Hudson Interior Decorations, Indiaworks by Robin Guild, Sudeley Design, Joanna Trading, Christopher Nevile Design Partnership, Simon Playle Limited, Rossie Designs, Ian G. Shaw and The Chelsea Gardener.
BIDE 1989: Bonetti & Garouste, Designers Guild, Blasé Designs, Rory Ramsden, George Spencer Designs, Scarisbrick & Bate, Nicholas Glover Associates, Fox Lindon Associates, Beaudesert, David Hicks International, Mercier - London, Jameson Designs, Meltons, Pawson Silvestrin, Rosemary O de C Hamilton, Morrow Reis Designs, Robina Cayzer, Alidad Limited, MC Squared, Parke Interiors, Broosk Interior Design, The Royal College of Art, Ian G. Shaw, Christopher Nevile Design Partnership and Helen Cooper Associates and Pimlico Print Rooms.
BIDE 1990: David Hicks International, Harrods with David Linley for Harrods, Joanna Trading, Christopher Nevile Design Partnership, Nicolas Glover Associates, MM Design, Anthony Paine Limited, Christophe Gollut, Nick Allen Consultancy, Kensington Designs, Charles Rutherfoord & Nobby Clarke, Broosk Interior Designs, Miriam Cobrin Designs, Derek Frost Associates, Jenny Armit Interiors, Pavillion Designs, Melissa Wyndham Limited, Smallbone & CO of Devizes, Suddeley Castle Furniture and Paula Durante Interiors.
BIDE 1997: Sybyl Colefax & John Fowler, Woodstock Designs with Ian Walton Associates, Victoria Waymouth Interiors, Clifton Interiors, Lecchini Way Architects, Joanna Trading, Peter Wadley Architects, Atrium Limited, KLC School of Interior Design, Clarke & Thomas Interior Design, Ashton Products with Peter Wadley Architects, Charles Chesshire Landscape & Garden Design, Charles Rutherfoord with Brian Everest, G.A. Design International, Dargie Lewis Designs, Christophe Gollut, Baker Nevile Design Partnership, Jenny Armit Interiors, Omega Interiors, Stephen Ryan Design & Decoration, Alidad, Graça Viterbo, Tessa Kennedy Design, Charles Bateson at IDC, Jane Wolley Dod Garden Design with Lloyd Christie. 

This luxury coffee table book is a tribute to both new Brussels exhibitions, with a short history of all previous exhibitions in London.
JOHN PAWSON:
Renowned International Minimalist Architect, London:
"I was part of Fleur's British Interior Design Exhibition in London in the 1980s. The strength of Fleur's vision defined the event and made participation a real pleasure for me"
THOMAS WOODHAM-SMITH: 
Founder of MASTERPIECE, Royal Hospital, Chelsea: 
"Fleur is a legend in the design world."
XL-size, 28 x 33 cm  (10 1/2 x 13 1/3 inches)
Luxury binding, real natural linen
156 pages, publication 02/2020