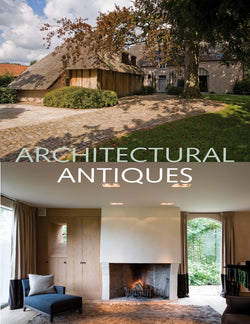 Beta-Plus Publishing
Architectural antiques - digital book only
Whether it's an 18th-century wooden floor, reclaimed Burgundy slabs, authentic handmade roof tiles and slates, antique fireplaces, or other historic features, these reclaimed materials always offer the opportunity for every home project to have an authentic character, as is clearly illustrated by the many inspiring projects featured in this book.
Dealers in antique construction materials also occupy a very important place in these developments, convincingly demonstrating how their unique discoveries, often to be found in a variety of warehouses and showrooms, can be integrated into magnificent homes. The growing professionalism within this sector has in recent years ensured that an increasing number of architects, interior specialists and private individuals have been able to find materials that suit them perfectly within the ever-expanding assortment of architectural antiques.
248 pages
Printed book is sold out and will not be reprinted.
This digital version in PDF is readable on all devices: iPhone, iPad, all Samsung and other Android phones and tablets, Apple and other computers.