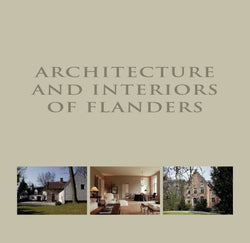 Beta-Plus Publishing
Architecture and Interiors of Flanders (digital book only)
Flanders is no more than a minuscule dot on the map of the world: a region that can easily be crossed in just a few hours, from the North Sea to the eastern border where Limburg meets the Netherlands and Germany.
Even so, Flanders has a rich architectural tradition and, for centuries, the most beautiful houses have been built here: the aristocratic mansions of Bruges and Ghent, the "maisons de maître" in Brussels, the high points of the Art Nouveau movement, the glorious castles and country houses, the beguinages and presbyteries, the smallholdings and residences of gentlemen-farmers...
Many examples of this architectural inheritance have now been knocked down to make way for more modern buildings. However, there is a growing respect for classic architecture and traditional craftsmanship. Recent years have seen the emergence of a new generation of architects and interior designers who are paying tribute to the rich architectural history and the fascinating mix of cultural influences to which the region of Flanders has always been exposed. Their creations reveal a synthesis of "classic" styles and, at the same time, add a new, contemporary spin: they have a great deal of admiration for the design of English, French and Italian country houses, but also draw inspiration from their Flemish inheritance.
So, the concept of Architecture and Interiors in Flanders  represents an eclectic vision of design. In this book, the most striking creations of the leading "ambassadors" for classic architecture and interior design in Flanders are gathered together under one banner.
It is a diverse collection, yet there are many common threads running through it: the love of craftsmanship; the insistence on durable materials; the urge towards understated, elegant design, towards peace and serenity; the aim of realizing harmony with the surroundings, of achieving authenticity and purity of style.
This concept sees architecture, garden design and interior styling as inextricably linked; the disciplines influence each other and are incorporated into a balanced whole.
Refusing to follow the latest trend, these inspired architects and interior designers have created living environments for their clients that will have no trouble withstanding the test of time.
Trilingual: English / French / Dutch
228 pages
Printed book is sold out and will not be reprinted.
This digital version is readable on all devices: iPhone, iPad, all Samsung and other Android phones and tablets, Apple and other computers.