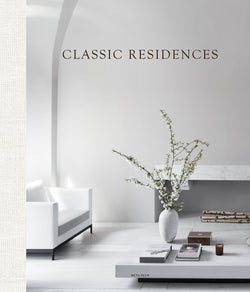 Beta-Plus Publishing
Classic Residences (digital book)
CLASSIC RESIDENCES provides unique access to distinguished residences with a modern perspective. From modest revisions to ground-up construction and complete renovations, these distinct houses around the world are all at once elegant and relaxed.
A curated mix of patinated furniture, antiques, subtle textiles and lighting, chalky washes of color, art, and objects is key to the striking interiors of all projects, exhibiting a relaxed formality.
All residences adhere to principles that transform a mere series of spaces into a genuine, coherent home, responsive to the people who live in it every day.
Blending classic and modern elements to create personal, calming surroundings, these classic homes feature traditional styles that have been refi ned to perfection.
This book offers a panoramic tour inside manor houses, apartments, … and shows how classic design has been updated for modern living.
Packed with beautiful photography, this exhaustive book captures the grandeur of these homes.
A definitive must-have for comfortable classicism lovers !
10/2018
280 x 330 mm (10 1/2 x 13 1/3 inches)
256 pages
Bilingual version (English / French)
This digital version in PDF is readable on all devices: iPhone, iPad, all Samsung and other Android phones and tablets, Apple and other computers.