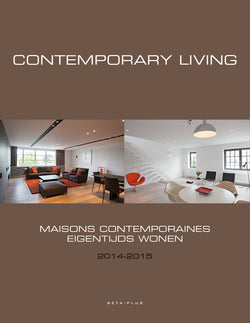 Beta-Plus Publishing
Contemporary Living Handbook 2014-2015 - digital book only
CONTEMPORARY LIVING 2014-2015 is a reference work on
contemporary architecture and interiors.
- With hundreds of new photographs of modern homes and
interior design that have never been published before.
- All of the projects are organised by theme: the most
beautiful entrance halls, sitting rooms, dining rooms,
kitchens, bathrooms, bedrooms and dressing rooms,
work and relaxation spaces and everything else around
the home.
- With weblinks to the architects and interior specialists
featured in the book.
272 pages
Trilingual version (English / français / NL)
Printed book is sold out and will not be reprinted.
This digital version in PDF is readable on all devices: iPhone, iPad, all Samsung and other Android phones and tablets, Apple and other computers.