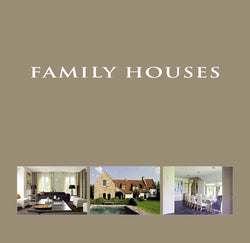 Beta-Plus Publishing
Family Houses (digital book only)
Everyone has a different opinion about the way the ideal family home should look.
The different reports in this book reflect this variety of opinions: they range from
historic country houses to recently built, distinctive homes for young families with lots of children.
The same theme keeps emerging from these very different backgrounds: the sense of conviviality, the warm welcome, the informal, timeless character that each of these family homes exudes.
These are houses that are not just there to be looked at – first and foremost, they are places where people really live: ideal environments for parents, children and guests.
In these havens, architecture and interior are never purely aesthetic, but always have a functional role, helping to make life more enjoyable for the people who live there.
English version
228 pages
Printed book is sold out and will not be reprinted.
This digital version is readable on all devices: iPhone, iPad, all Samsung and other Android phones and tablets, Apple and other computers.