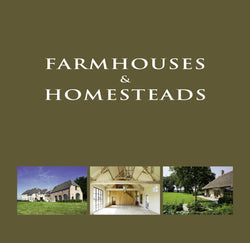 Beta-Plus Publishing
Farmhouses & Homesteads - digital book only
Historical farmhouses, quadrangular farms and castle farms form an important part of the heritage of the Low Countries.
More and more interior designers, architects, restorers and private individuals with a passion for old buildings are realising that this heritage must not be lost.
Now that there is a constant decrease in the number of active farms, more ancient
farmhouses are finding new owners. They are being restored to make contemporary
residential farms, with all modern comforts and luxury, but with the authentic character and the surrounding natural landscape as additional bonuses.
This book is a plea for a reassessment of this rich, rural architectural history. Whether it's a seventeenth-century convent farm, a nineteenth-century long-fronted farmhouse, or the stylistically faithful reproduction of an authentic eighteenth-century farm complex, these unique creations all combine the past and the present, the house and its rural surroundings in a stunning way.
228 pages
Printed book is sold out and will not be reprinted.
This digital version in PDF is readable on all devices: iPhone, iPad, all Samsung and other Android phones and tablets, Apple and other computers.