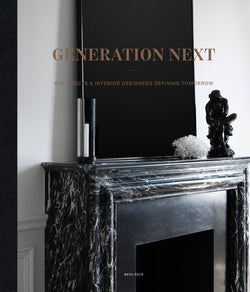 Beta-Plus Publishing
GENERATION NEXT - ARCHITECTS & INTERIOR DESIGNERS DEFINING TOMORROW (DIGITAL BOOK)
Introducing the best young-designers-to-be, whether rule-breakers or defenders of tradition, upcoming architects design buildings and infrastructure that will define our cities for years to come. Their creativity, artistic drive, and commitment to innovation shapes the way we interact with the places we call home, whether that be urban center or rural retreat.
The portraits and projects of the 20 most promising architects and designers under 40:
Guillaume Alan (UK+FR) - Emily Barker & Marie Carson (US) - Jessica Barouch (FR) - Kevin Caprini & Jerry Pellerin (FR) - Meg Cassidy (CA) - Christina Cole (US) - Hannes Decancq & Emilie Otté (BE) - Dries De Malsche (BE) - Emil Dervisch (UKR)  - Thomas Geerlings (NL) - Mandy Graham (US) - Karine Lewkowicz (FR) - Nathan Litera (FR) - Sheena Murphy & Tor Sauder (US+UK) - Emily Neugarten (MC) - Iker Ochotorena (ES) - Nicolas Schuybroek (BE) - Emmanuelle Simon (FR) - Antoine Simonin (FR) - Dieter Vander Velpen (BE)
04/2019
256 pages
25x34 cm (10 x 13 1/3 inches)
This digital book in PDF is readable on all devices: iPhone, iPad, all Samsung and other Android phones and tablets, Apple and other desktop and laptop computers.