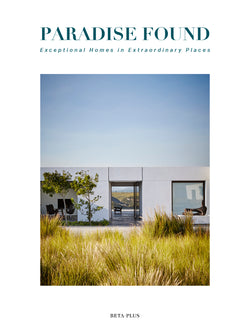 Beta-Plus Publishing
PARADISE FOUND - EXCEPTIONAL HOMES IN EXTRAORDINARY PLACES (DIGITAL BOOK)
Twelve exceptional houses with breathtaking views from all over the world.
This title features a stunning array of residential design, from a simple cottage on a remote island to a luxurious home set in a spectacular landscape.
In this new book, readers are invited to enjoy the appeal and meaning of enviable dwellings. 
The private homes featured in Paradise Found boast a rich variety of different architecture and interior styles, but they all share a similar spirit. Fusing traditional European design with Asian, African, and Caribbean influences, the resulting unique homes reflect a keen sense of style. 
Whatever the style, their interiors speak of a relaxed, informal, carefree lifestyle where the boundaries between inside and out are blurred. Focusing not only on the architecture of the buildings but also the landscape design and interior design, Paradise Found transcends the traditional and details an inclusive look at some of the most stylish and diverse homes in Paradise. 
Featuring full color photography, Paradise Found visits a selection of glorious houses and hideaways that are guaranteed to enchant and inspire.
12/2018
224 pages, 223x 297 mm (9 1/2 x 13  inches) 
This digital book in PDF is readable on all devices: iPhone, iPad, all Samsung and other Android phones and tablets, Apple and other desktop and laptop computers.