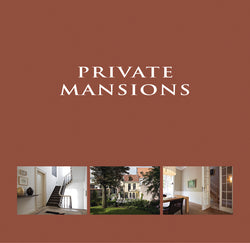 Beta-Plus Publishing
Private Mansions - digital book only
Past centuries have seen well-to-do citizens and other dignitaries commission prestigious private mansions in large cities, often built along tree-lined boulevards.
From the nineteenth century, many avenues were built as a perfectly straight, broad axis between stately mansions with classic façades, in line with the architectural model that had been introduced by Haussmann  in Paris.
Behind these façades very opulent décor was often concealed, with features such as monumental marble fireplaces, oak parquet, natural-stone floors and ornamented stuccowork.
In the twenty-first century, these exclusive mansions are a valuable testament to our rich architectural history.
However, the accounts in this book also demonstrate that these mansions have lost none of their relevance in the modern world: contemporary architects and interior specialists are restoring these houses in a way that is full of respect for the authentic architectural elements, but makes the necessary concessions to the modern way of life. This leads to a constant and fascinating interaction between old and new.
228 pages
Trilingual version (English / français / NL)
Printed book is sold out and will not be reprinted.
This digital version in PDF is readable on all devices: iPhone, iPad, all Samsung and other Android phones and tablets, Apple and other computers.